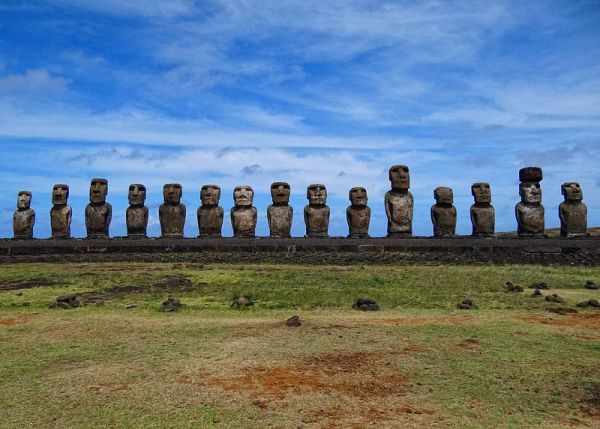 What we know of Easter Island is a story of environmental degradation fueled by human activity. The island had a varied ecosystem, including forests, before Polynesian sailors settled there around the year 1200. By the time the Dutch arrived 500 years later, the forests were gone, agriculture was difficult, and the human population of the island called Rapa Nui was in decline. The huge stone moai figures were fascinating, though, and posed a mystery as to their meaning. It took a couple more hundred years before anyone bothered to ask the islanders about their cultural legacy, and by then both the oral traditions and written language were fading away. However, even the soil on Rapa Nui can tell a tale.
A recent study by Van Tilburg and her archaeological team has helped fill in these gaps. By testing the soil of the area where moai rock was quarried, they found evidence that the statues not only symbolized prosperity, but that the very creation of the moai contributed to agricultural abundance.

Van Tilburg's team has spent the past five years excavating Rano Raraku, a quarry in the island's center whose rock accounts for 95 percent of the moai. The team was analyzing statues found in the area when geoarchaeologist Sarah Sherwood, more out of habit than anything else, tested the local soil. "When we got the chemistry results back, I did a double take," Sherwood told UCLA's Newsroom.

The team expected the quarry to just be a quarry. Instead, the analysis suggested that sweet potatoes and bananas had grown nearby, in soil rich in calcium and phosphorous. On an island with limited resources, where the rest of the soil had long since been depleted, the presence of such fertile soil was stunning.
Read about Sherwood's find and what it means to Easter Island's history at Atlas Obscura.
(Image credit: Bjørn Christian Tørrissen)