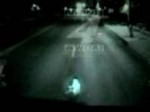 A 14-month old baby, wearing only a diaper, was found sitting in the middle of a well traveled road .
San Antonio bus driver, Mike Hubbard, stopped his  bus in the nick of time.  He exists the bus to investigate what's in the road.  To his disbelief it is a baby. Suddenly, the child's father bolts out of the house and retrieves the little girl. The father never says anything to the bus driver.
The mother claims it was just a horrible accident. The child is believed to have escaped the house through a unlatched screen door.
Check out the amazing video. http://www.woai.com/mostpopular/story/Shocking-Video-Baby-in-the-street/XO2XsnVZpEa_pqo1GDHcxA.cspx
---

We hope you like this article!
Please help us grow by sharing:
Get Updates In Your Inbox
Free weekly emails, plus get access
to subscriber-only prizes.
We won't share your email. You can cancel at any time.