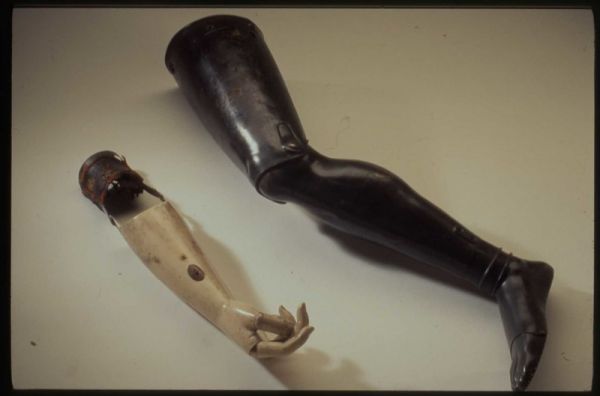 Only two days after teenager James Hanger enlisted to serve in the Civil War, he was shot on the battlefield. To save his life, medics cut off his leg, making him the very first amputee of the war. He would not be the last- around 60,000 soldiers suffered limb amputation -most without anesthetic- before the war ended in 1865. Hanger went home and retreated to his bedroom, where his parents feared he was succumbing to depression. Meanwhile, the sheer number of soldiers coming home missing an arm or leg spurred improvements in prosthetic limbs. Dr. Douglas Bly developed America's first articulated prosthetics, designed to replace the standard peg leg of earlier times.  
What made Dr. Bly's prosthetic limb superior to earlier designs was his knowledge of human anatomy and specifically the way the leg works at the ankle. His limb allowed for side motion instead of simply forward and backward, and mechanisms at both the ankle and the knee allowed for more natural bending and flexing. In fact, Dr. Bly was credited with inventing the first curved knee. The ankle movement was obtained through the use of a polished ball inside a socket of vulcanized rubber. Unfortunately, Dr. Bly's invention was considered too expensive for a government contract.

Entered James Hanger — the 18-year old engineering-student-turn-soldier who had his limb shattered after just two days. It turned out that when he retreated to his room, he was not wallowing in self-pity, as his parents had feared. Rather, he took to heart the oft-said phrase "necessity is the mother of invention" and went to work fashioning a practical prosthetic limb. Three months later, by November 1861, he had developed The Hanger Limb. Like Dr. Bly's prosthetic, it contained a hinged knee and ankle that allowed for greater mobility.
The most important innovation of the Hanger Limb was that it was affordable for the veterans who needed it. Read that story and the development of artificial limbs both before and afterward at 3 Quarks Daily.  -via Nag on the Lake

(Image credit: Flickr user National Museum of Health and Medicine)