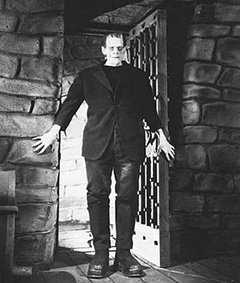 The following article is reprinted from
The Best of Uncle John' Bathroom Reader
.The original Frankenstein's monster wasn't Boris Karloff -it was (believe it or not) a character created by a 19-year-old author named Mary Shelley ...more than 190 years ago.
BACKGROUND
In the summer of 1816, 19-year-old Mary Wollstonecraft Shelley and her 24-year-old husband, the poet Percy Bysshe Shelley, visited Switzerland "It proved a wet, uncongenial summer," she wrote some 15 years later, "and incessant rain often confined us for days to the house."
To pass the time, the Shelleys and their neighbors -28-year-old Lord Byron, his 23-year-old personal physician, and his 18-year-old lover- read German ghost stories aloud. They enjoyed it so much that one day, Byron announced, "We will each write a ghost story." Everyone agreed, but apparently the poets, unaccustomed to prose writing, couldn't come up with anything very scary.
Mary was determined to do better. "I busied myself to think of a story," she recalled, "One which would speak to the mysterious fears of our nature and awaken thrilling horror." Yet she couldn't come up with anything. Every morning, her companions asked: "Have you thought of a story?" "And each morning," she wrote later, "I was forced to reply with a mortifying negative."
A FLASH OF INSPIRATION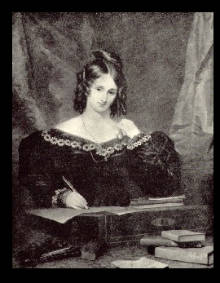 Mary Wollstonecraft Shelley
One evening, Mary sat by the fireplace, listening to her husband and Byron discuss the possibility of reanimating a corpse with electricity, giving it what they called "vital warmth."
The discussion finally ended well after midnight, and Shelley retired. But Mary, "transfixed in speculation," couldn't sleep.
"When I placed my head on the pillow," she recalled, "I did not sleep, nor could I be said to think. My imagination, unbidden, possessed and guided me, gifting the successive images that arouse in my mind with a vividness far beyond the usual bounds of reverie. I saw -with shut eyes but acute mental vision- I saw the pale student of unhallowed arts kneeling beside the thing he had put together ...I saw the hideous phantasm of a man stretched out, and then, on the working of some powerful engine, show signs of life and stir with an uneasy half-vital motion.
"Frightful must it be; for supremely frightful would be the effect of any human endeavor to mock the stupendous mechanism of the Creator of the world. His success would terrify the artist; he would rush away from his odious handiwork, horror-stricken. He would hope that, left to itself, the slight spark of light which he had communicated would fade; that this thing would subside into dead matter; and he might sleep in the belief that the silence of the grave would quench forever the transient existence of the hideous corpse which he had looked upon as the cradle of life. He sleeps; but he is awakened; the horrid thing stands at his bedside, opening his curtains, and looking on him with yellow, watery eyes..."
THE PERFECT HORROR STORY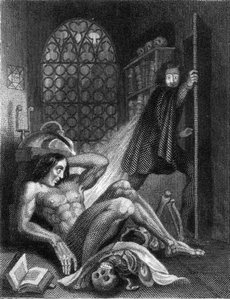 At this point, Mary opened her eyes in terror -so frightened that she needed reassurance it had all just been her imagination. She gazed around the room, but just couldn't shake the image of "my hideous phantom." Finally, to take her mind off the creature, she went back to the ghost story she'd been trying to compose all week. "If only I could contrive one," she thought, "that would frighten people as I myself had been frightened that night!" Then she realized that her vision was, in fact, the story she'd been reaching for.
As she recounted: "Swift as light and as cheering was the idea that broke in upon me. 'I have found it! What terrified me will terrify others; and I need only describe the spectre which had haunted my midnight pillow.' On the morrow I announced that I had thought of a story. I began the day with the words, 'It was on a dreary night in November,' making only a transcript of the grim terrors of my waking dream."
THE NOVEL
The first version of
Frankenstein
was a short story. But Mary's husband encouraged her to develop it further, and she eventually turned it into a novel. It was published anonymously in three parts in 1818. "Mary," notes one critic, "did not think it important enough to sign her name to the book... And since her husband wrote the book's preface, people assumed he had written the rest of the book as well... It was not until a later edition of
Frankenstein
that the book was revealed as the work of a young girl."
________________________________
The article above is reprinted with permission from
The Best of Uncle John's Bathroom Reader
.
Since 1988, the Bathroom Reader Institute had published a series of popular books containing irresistible bits of trivia and
obscure yet fascinating facts
.
If you like Neatorama, you'll love the
Bathroom Reader Institute's books
- go ahead and check 'em out!