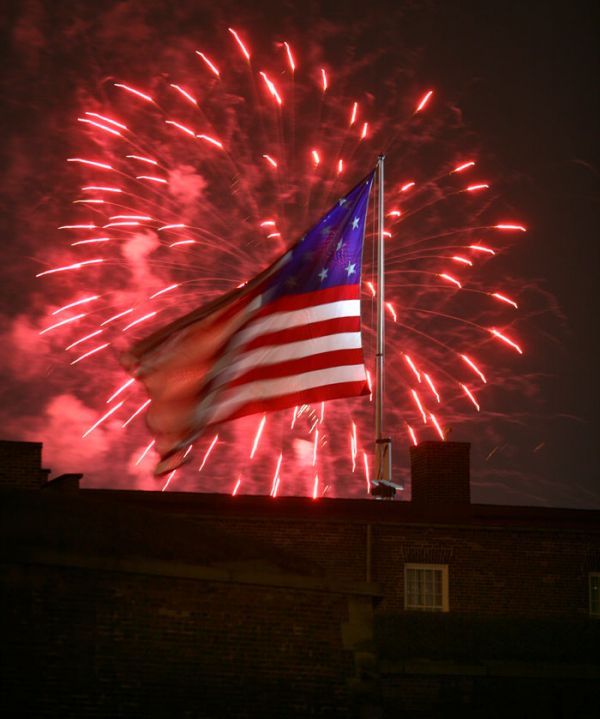 (Photo of fireworks over Ft. Henry by Rich Dennison/The Daily Record)
Today is the bicentennial of a seminal event in the formation of the American national identity. Two hundred years ago today, Americans at Baltimore halted a foreign invasion of their nation while standing beneath a flag that would become known as the Star-Spangled Banner.
This is my third post on the bicentennial of the War of 1812--a war that some historians refer to as America's second war of independence. Although Britain did not want to completely conquer and rule its rebellious colonies once again, it hoped to reduce America into a shadow of its former self--one that could be more easily coerced and managed from across the Atlantic.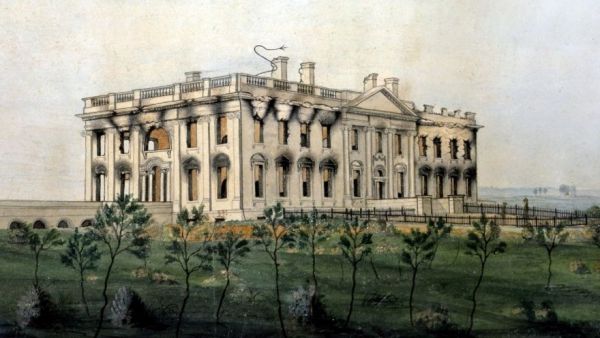 (The burned White House by George Munger, White House Historical Association)

The British grand strategy was to tie down America's limited military resources on the Eastern seaboard and New Orleans while driving a decisive blow down the Lake Champlain-Hudson River corridor. In August and September of 1814, the British acted on their plan. First, they burned down the capital city of the United States. Then they moved into Lake Champlain in the direction of New York City.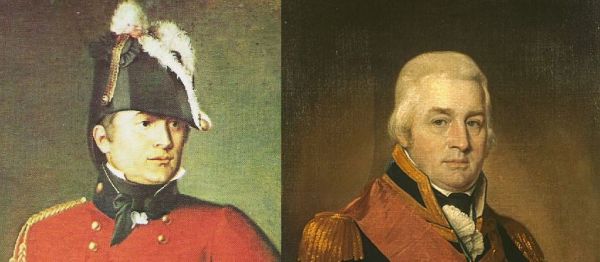 (Major General Robert Ross and Vice Admiral Alexander Cochrane, respectively)

In this post, we depart from the wilderness of northern New York and return to Chesapeake Bay. Major General Robert Ross, the British Army commander, and Admirals Cockburn and Cochrane, had torched Washington, D.C.--an act that both humiliated and enraged Americans. They had hoped that burning the capital would make the American people despair of the struggle and give up the fight.
They were wrong.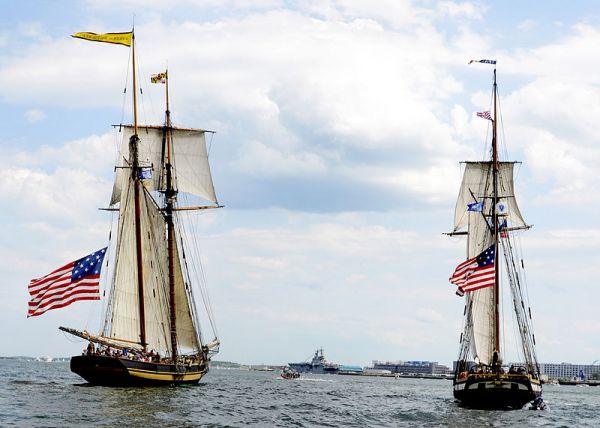 (Modern replicas of two War of 1812-era privateers, The Pride of Baltimore and the Lynx, photo by the US Navy)
So Cochrane, as the senior British officer in the theater, had to decide where to strike next. He seriously considered an invasion of Rhode Island. But nearby Baltimore, then one of the largest cities in America, was a more promising target. During the war, it was a major base of operations for American privateers. Approximately 500 captured British merchant vessels had been sailed into its harbor, which is why Cochrane's subordinate, Admiral Cockburn, described Baltimore as a "nest of pirates." Destroying Baltimore would do serious harm to the American economy as well as avenge what the British perceived as a grievous wrong perpetrated by the Americans. And after so easily destroying Washington, why not continue their campaign just a bit further north?
Continue reading