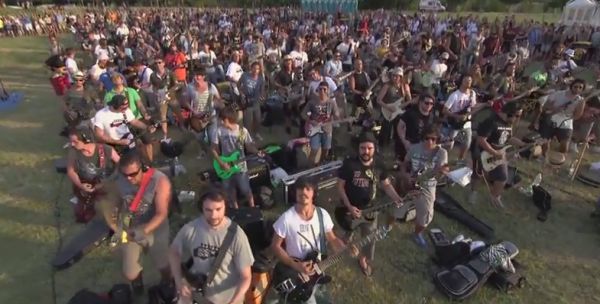 A thousand Italian singers, guitarists, bassists, and drummers under the name Rockin1000 got together to play "Learn to Fly" by the Foo Fighters. Watching that many people play and sing together -well- is spine-tingling.
The stunt, a year in the making, is intended as an invitation to Dave Grohl and the band to come and play in Cesena, Italy. Do you think they will?
Oh, in case you'd like to hear the drums and bass only, here's a personal video taken on the scene without a direct music feed. To hear only the guitar, here's a video from a guitarist with a GoPro.
Update: The Foo Fighters have responded.
Ci vediamo a presto, Cesena.... xxx Davide https://t.co/o3ThIE4QYV @rockin_1000

— Foo Fighters (@foofighters) July 31, 2015
In English, that means "See you soon!"