The following is a Whodunit by Hy Conrad. These mysteries are from The Little Giant® Book of Whodunits by Hy Conrad and Matt LaFleur. Can you solve the mystery before you read the solution?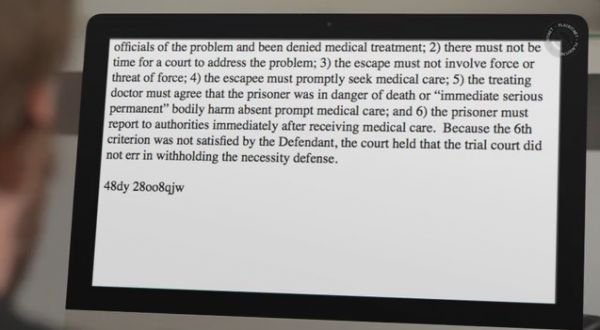 Sergeant Vacca had been on the homicide squad for eight years and had never once run into a deathbed clue. Not once had he heard a dying man blurt out the name of his killer or seen him grab at his St. Christopher medal in order to incriminate a suspect named Chris. Even though he was a devout mystery fan, Sergeant Vacca had begun to seriously doubt that such things ever really happened. Until now.
His captain was still skeptical. "Who says this is a deathbed clue? Looks like a bunch of gibberish." The gibberish consisted of two words typed on a computer screen.
The police had found Maria Consuela alone in her downtown office cubicle. The attractive legal secretary had stayed late to finish typing up a brief and had been rewarded with a blunt object to the head and ribs. There was no sign of forced entry and little sign of struggle—an indication that she had known her attacker.
A pool of blood trailed away from the cubicle's doorway and ended in Maria's collapsed body, right under the edge of her desk. "It must have taken her last ounce of strength to crawl over here," Sergeant Vacca theorized. "She must have had some reason."
Continue reading