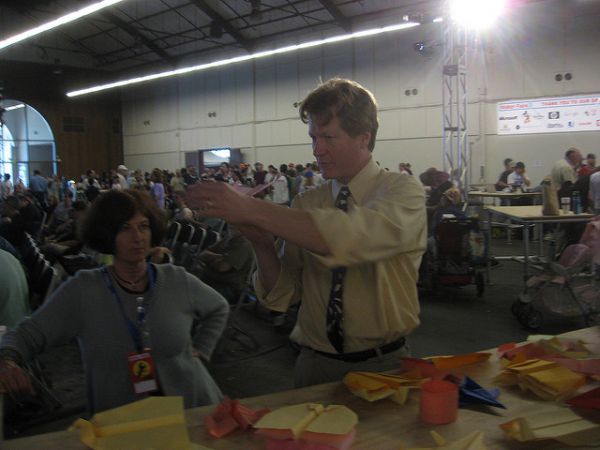 (Image credit: Flickr user Russ)
How many reams of paper does it take to make a record-breaking paper plane? Its engineer, John Collins, explains.

Let's talk about the record you broke for the farthest distance traveled by a paper airplane indoors—226 feet, 10 inches.
The previous record was 207 feet, four inches. It stood for about nine years. The [last] guy who set it was only 15 years old. Joe Ayoob and I -Joe is my thrower; he's a professional football player- set our record in February of 2012.

I didn't realize this is a team effort.
It was really the first time a team had tried. I realized fairly quickly that I didn't have the arm to throw anything 200 feet. The old method for breaking the distance record was to make [a paper airplane that was basically] a fancy-looking stick with fins: Fold the paper as compact as you can; the whole wingspan is about an inch. Put the wings at equal angles to each other, so if the plane rolled to one side, it didn't matter. Throw it really hard at a 45-degree angle, and it would do this parabolic arc because of gravity and crash into the finish line. That's how I started to do it.

How was your plane different?
I built a real flying machine- a glider.
Continue reading