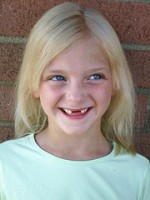 According to a new study conducted by the credit card company Visa, even the Tooth Fairy has been impacted by the recession. The per tooth payout has dropped quite a bit:
The study found that the average price per tooth dropped to $2.60 this year from $3 in 2010.

On the East Coast, last year's highest-paid children are now the lowest paid ones. The price of a tooth dropped 38 percent to $2.10. In the South, children also took a big hit to their piggy banks as the price was cut 21 percent to $2.60.

The price for teeth in the Midwest and West Coast remained stable. Children in the Midwest noticed a decline of 3 percent, or 10 cents, to $2.80. While West Coast youngsters actually saw the price edge up to $2.80 from last year's $2.70.
Link
-via
Marketplace
| Photo by Flickr user
PinkStockPhotos!