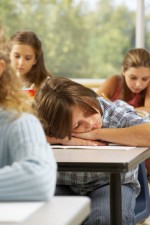 A new study suggests lack of sleep and teen depression are linked. The American Academy of Sleep Medicine recommends 9 hours of sleep a night, but most teens actually get far less than that.
The students who were excessively sleepy during the day were three times more likely to have strong depression symptoms than their well-rested peers, Dr. Siddique and his colleagues found. However, it's not clear from the study whether sleeping poorly is a symptom of depression, or vice versa.
Do your kids get enough sleep?
Link
Photo: Clipart