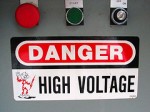 So, naturally, Kyle DuBois' parents are suing the school:
DuBois was hospitalized after receiving a serious electrical shock while in class on March 11. On a dare, DuBois clipped alligator clips to his nipples and received a severe shock that caused him to stagger and collapse, the lawsuit says.

The incident resulted in DuBois being sent to Wentworth-Douglass Hospital, where he was diagnosed as having an "out of hospital electrocution resulting in cardiac arrest, unresponsive state and respiratory failure," according to the lawsuit.[...]

Court documents say DuBois suffered brain damage due to the heart stoppage.
How can you tell?
Seriously though, the lawsuit alleges that the teacher acted recklessly and was fully aware of the student's plan to shock his nipples. You can view a camera phone recording of the incident at the link.
Link
via
Geekologie
| Photo by Flickr user
oskay
used under Creative Commons license