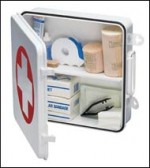 James R. Rummel is a self-defense and home security blogger. His current project is to create a thorough first aid kit for a family of four which includes two children. He's never raised children, so he asks readers what they would put in such a first aid kit.
In addition to what he's thought of already, I suggest age-appropriate ibuprofen, acetaminophen, Benadryl, antibiotic ointment, hand wipes, and a nasal aspirator.
What do you consider to be the first aid essentials for children?
Link
| Photo: OSHA