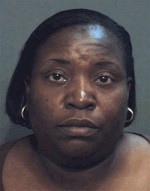 Workers at All Star's Child Care in Florida left a 9-year old boy in charge of 12 other children.  The workers, who were supposed to be watching the kids, left the day-care center after an apparent dispute with the boss.   The children were left alone for about an hour.
Laquanda Tamel King, 33, told the child to lock the door, and he assumed she would be back soon, he told the deputy. A 14-month-old, a 22-month-old and a 3-year-old began to cry, so he patted their backs to comfort them, the report states.
The children were unharmed.
This little 9-year old boy is very much a hero in my book.
Orlando Sentinel has more:
Link
Photo: Laqunda Michele Hill (one of the three women charged in this incident) provided by Orange County Sheriff's Office