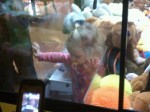 A toddler and her mother visited the mall in Robinson Township, Pennsylvania. The mother turned her head for a moment, and when she looked back, her little girl was inside a prize-dispensing claw machine. Rescue workers removed her without any problems:
"We pried the door off and I brought the child out and lifted her up and said, 'here's my prize,'" said Chief Paul Kashmer.

The child was removed safely from the claw machine and suffered no injuries.

"We got inside and sure enough there was the cutest little girl you ever seen, sucking a bink inside a toy machine with all the other toys," said Kashmer.

Kashmer said the child never cried and even seemed to be enjoying herself.
Link
via
Ace of Spades HQ
| Photo: WTAE