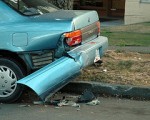 A 17-year old boy in Bridgeville, PA who had just passed his driving test immediately crashed his car into the DMV while still in the parking lot:
Township police Sgt. Brian Halbleib told the Pittsburgh Tribune-Review that the accident happened when the teen pulled into the parking lot of the driver license center to drop off the man who had administered the test.

Halbleib said the teen thought the car was in park but it wasn't.
Link
via
Jalopnik
| Photo (unrelated) by Flickr user
gallicious
used under Creative Commons license