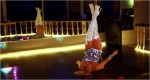 The community of Neoga, Illinois has a new strip club.  What's unusual and slightly shocking is the location. The appropriately named, School House strip club opened up at the old Pioneer Elementary school.
The building, sold by the school district in 2002, recently reopened as a strip club, shocking Cumberland County residents — many of whom walked its halls as youngsters and discovered its new use one week before it opened.
What exactly does this say about the state of our educational system?
Malcolm Gay of The New York Times has more:
Link
Photo: Sally Ryan for The New York Times