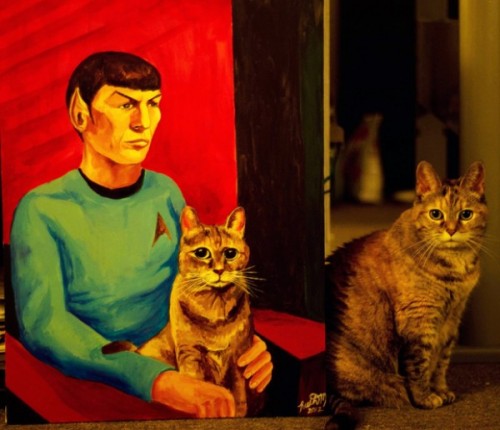 No true fan of the Vulcan mastermind known as Spock will be able to live without this amazing painting hanging in their quarters.
Created by Etsy seller Ruth Marcus, this acrylic painting captures Spock in a rare moment of emotional bliss, seated with his favorite kitty Mr. Scrambles on his lap, memories of Vulcan's wars fading away along with the stress of the current stardate.
And if you're not a big fan of Spock don't worry- Ruth will make a custom painting of your favorite celebrity seated with your pet.
I'm thinking a painting of Dom DeLuise with one of my chinchillas sitting on his head might make a pretty swanky portrait to hang over my bed. Get those brushes ready Ruth!
Link
  --via
Nerd Approved