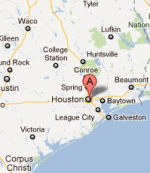 The job pays well, but the minimum education and work experience requirements are pretty stiff and you'll have to relocate to Houston. Also, you must be small enough to fit into a Soyuz spacecraft.
NASA, the world's leader in space and aeronautics is always seeking outstanding scientists, engineers, and other talented professionals to carry forward the great discovery process that its mission demands. Creativity. Ambition. Teamwork. A sense of daring. And a probing mind. That's what it takes to join NASA, one of the best places to work in the Federal Government.

The National Aeronautics and Space Administration (NASA) has a need for Astronaut Candidates to support the International Space Station (ISS) Program and future deep space exploration activities.
Applications will be taken until January 27th. http://www.usajobs.gov/GetJob/ViewDetails/302967000 -via
Metafilter