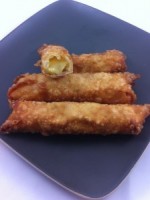 My first reaction to this headline was "Aren't french fries
already
deep fried?" I guess that's no barrier to deep-frying them again. In this recipe, the poutine (french fries, cheese curds, and gravy) are stuffed in an eggroll wrap and then deep fried.
The deep fried poutine turned out really well and tasted great, but it was a little dry due to the lack of much filling. Now that I think about it though, I'm sure that dipping them in gravy before each bite could easily solve that problem. Either way, if I made it again I'd definitely try to pack some more fries, cheese curds and gravy into the egg roll wrappers. Your move Canada!
Anyone want to try this and report back to us?
Link
-via
J-Walk Blog