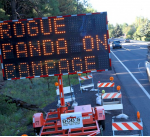 Someone got hold of an Arizona Department of Transportation electronic sign on Fort Valley Road in Flagstaff this week, and changed the message about left turns to "Rogue Panda on Rampage."
Authorities said there is no cause for concern.

"We want to assure all citizens of Flagstaff that there is no problem with rogue pandas," said Lt. Ken Koch with the Flagstaff Police Department.

He does, however, encourage anybody who spots a member of the endangered species roaming Flagstaff streets to call the police department.
The sign, which had been altered in the middle of the night, was corrected by 11 AM. No suspects have been identified. The good news is that the publicity may cause motorists to read electronic signs more carefully in the future.
Link
-via
Arbroath
(Image credit: Jake Bacon/Arizona Daily Sun)