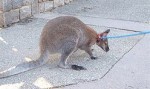 Police in Prague, Czech Republic, began receiving calls about thefts of women's underwear from clotheslines, at about the same time a man called to report his pet kangaroo, Benji, had escaped. It all made sense when one caller said she had witnessed a kangaroo hopping off with her underwear. The marsupial was picked up shortly afterward.
Benji's owner Petr Hlabovic, 35, said: "I'm very relieved to have him back. I've got no idea what he thought he was up to - he certainly didn't pick up the habit from me."
There is no mention of whether the unmentionables were returned to their rightful owners.
Link
-via
Arbroath