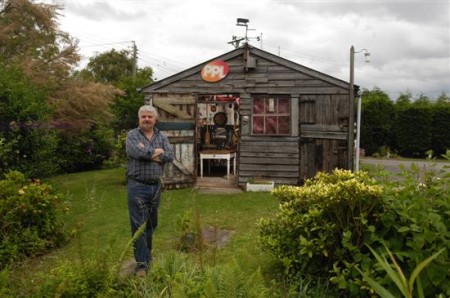 We always get a kick out of announcing the winner of the British contest Shed of the Year, but this year, the winning shed is quite interesting in its own right. Jon Earl of Clevedon, Somerset won £1000 and a "shedload" of the sponsor's products. His shed is more than just a place to store things -it's also a place for musicians to film videos!
Originally a First World War billet hut, music fan and regular festival goer Jon decided in 2009 to turn his ramshackle shed into a venue to video acoustic music sessions. He began inviting musicians from all over the world into the 12ft by 10ft shed to video the sessions. The humble looking shed has hosted sessions for musicians ranging from the Fairport Convention to Steve Harley and has even been the setting for a video for US band the Water Tower Bucket Boys.
You can see those videos on the website Songs from the Shed. Earl plans to use the prize money to fix up his shed.
Link
-via
Breakfast Links