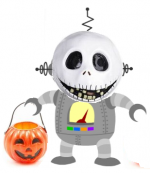 This week, Neatorama was proud to roll out our new literary sub-blog
BitLit
, where you can enjoy new fiction from all kinds of contributors! We started with three offerings, all described in
this post
. Check in for new chapters of
Frostbite
and
Trivial Pursuits {?}
posted every day, and read the entire short story
Nomen Ludi
.
Jill Harness was busy this week, again rounding up the best Halloween information and entertainment for you in
Neatorama's Halloween Decoration Geekstravaganza
, as well as
12 Gross Candies Perfect For Trick or Treaters
, and the post
10 Controversial Horror Movies For Halloween
.
We had more Halloweeny goodness from Uncle John's Bathroom Reader in
Famous Trials: The Witches of Salem
, and The Annals of Improbable Research brought us
Yummy Mummies for Good Health
.
Halloween wasn't the only thing going on. John Farrier gave us
10 Facts You Might Not Know about Babylon 5
.
Jill said
Happy Birthday, Teddy Roosevelt!
on what would have been the president's 152nd birthday Wednesday
Really, Really Dumb Moments in Sports
came to us from the new issue of mental_floss magazine.
I reported on
10 Things I Learned at BlogWorld in Las Vegas
.
Alex is asking for your comments and suggestions in the post
How Should We Improve Blogging Diversity on Neatorama?
If you didn't have time to try it out earlier, spend some downtime this weekend playing with
Neato-Puzzle #4
.
In the
What Is It? game
we posted on Thursday, t-shirts go to
just a guess
who correctly guessed that the object is a
carpet stretcher
, and to
e7c
for the funniest guess: George Washington's Halloween costume's vampire denture!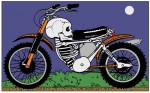 Steven Johnson drew a Halloween edition of the
Name That Weird Invention!
contest. T-shirts from the
NeatoShop
go to Barking Bud, who called it a
Mortalcycle
, and to John P, who came up with the name
Moto-Crossbones
by Bone-Daddy Bikes, which comes in "his and hearse models". Honorable mentions: Elizabeth (Bone Chopper), Hannah (Tyred of Life), Saudia (Nutcracker), Heather B (Dirt Nap Bike), deathbyawesomeness (diecycle), Sasha (BMXoskelton), and ladybuggs (The Grim Chopper).
As a special treat, we ran
a second round of Name That Weird Invention!
on Friday. You can still enter that contest for a couple more days.
We also saw a trick-or-treat version of
Mal and Chad's Fill in the Bubble Frenzy
. The winning entry is from Matt, who said
That's the last time I try the "Knock knock. Who's there? Bananna." joke!
Matt, however, did not select a t-shirt.
Congratulations also to Holly Werra and Mark Dziak, who won t-shirts from the
NeatoShop
in the How Did You Know? contest that Neatorama sponsored this week at mental_floss.
We had four winners in
the Star Wars giveaway
: Heather Muise, David Alexander LaPierre, @Chiisexy and @raaven. What? You
didn't know
we were doing a Star Wars giveaway until it was over? That's because it was a social media giveaway. You'll be in on the
next
such giveaway if you follow Neatorama on
Facebook
and
Twitter
!
Have a great Halloween!