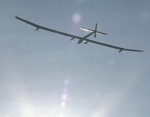 The Solar Impulse (
previously
at Neatorama), an experimental electric plane with rechargeable solar batteries, has completed a 24-hour continuous flight, with no fuel. The flight proves that the plane's solar collectors can store enough energy through the day to last through the night.
Pilot Andre Borschberg eased the Solar Impulse onto the runway at Payerne airfield about 30 miles southwest of the Swiss capital Bern at exactly 9 a.m. (3 a.m. EDT) Thursday.

Helpers rushed to stabilize the pioneering plane as it touched down, ensuring that its massive 207-foot wingspan didn't scrape the ground and topple the craft.

The record feat completes seven years of planning and brings the Swiss-led project one step closer to its goal of circling the globe using only energy from the sun.

"We achieved more than we wanted. Everybody is extremely happy," Borschberg told reporters after landing.
The flight proves that, theoretically, the plane could stay in flight indefinitely. The next goal: crossing the Atlantic.
Link
-via
reddit