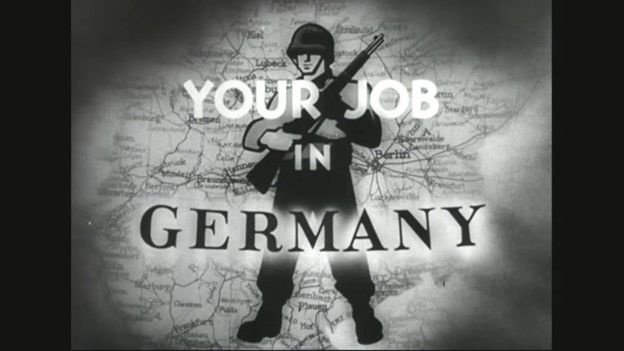 The term in Nazi ideology was "gleichschaltung." It meant that all aspects of German society and culture--even and especially children's literature--had to reflect the Nazi perspective. By the end of twelve years of Nazi rule, even Latin, physics, and algebra books in Germany were thoroughly Nazi.
The occupying powers were disinclined to engage in the book burning that characterized the Nazis, but ultimately decided that it was necessary to purge Germany of Nazi ideas and, specifically, literature. At Lapham's Quarterly, historian Kathy Peiss writes about how the occupiers rooted Nazism out of libraries:
Local army commanders closed libraries and ordered librarians to halt the circulation of objectionable works, although this effort was haphazard. New guidelines hammered out in June made clear that public libraries were to be brought into line with publishers and booksellers. They required that all forbidden materials be removed from open shelves and placed in secure rooms, available only with the express permission of the military govern­ment. Staff members filled out Fragebogen, detailed questionnaires in­tended to reveal Nazi affiliation or beliefs. Library directors were required to sign a certificate stating, "I fully understand that it is my responsibility to see that the library is completely denazified." Applications to reopen a library certified that "no ardent Nazi will be employed" and no literature circulated that supported Nazi doctrines, militarism, or discrimination on the basis of race, nationality, creed or political opinion.
-via Debby Witt | Image from Frank Capra educational film Your Job in Germany.