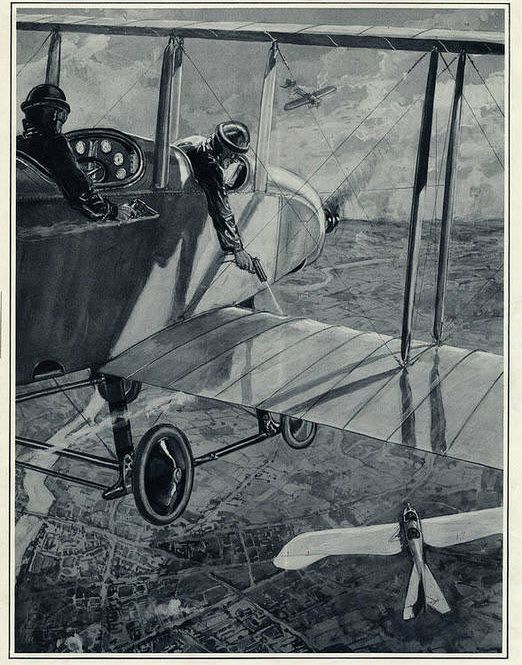 The first planes before and during World War I didn't pose much danger. Back then, they were only used for reconnaissance and surveillance of enemy territory. Information back then was as valuable as it is today. However, once opposing forces used the same tactic against each other, there became a realization to add weapons on the rather new invention. With the addition of weapons on planes came dogfights.
The first dogfights were made with pistols. The pilot held the airplane's control stick with one hand and fired off his pistol to the sides with the other. Then a second crew member, the gunner, was added. Sitting on the backseat, his job was to operate a movable machine gun leaving the flying to the pilot. It was German aviator August Euler, who first saw the advantage of a forward-firing gun that could bring down an enemy from behind. Euler patented his design in 1910—four years before war started.
Euler's design was met with criticism, however.
"The idea of coupling the firing mechanism to the propeller's rotation is an affectation. The objection is the same as to any gun position which is fixed along the longitudinal axis of the aircraft: the pilot is forced to fly directly at the enemy in order to fire. Under certain circumstances this is highly undesirable", wrote German Major Siegert.
Nevertheless, airplane designers continued to file patents.
But putting a forward-firing gun on a plane proved to be very difficult. It wasn't until Anthony Fokker came into the scene with his synchronization gear that the first true fighter aircraft would be born.
More about this over at Amusing Planet.
(Image Credit: The Illustrated London News/ Amusing Planet)