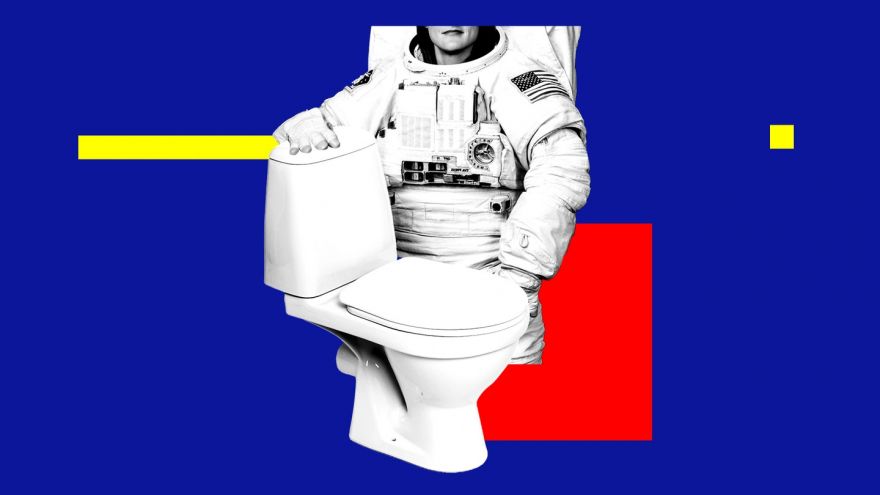 The Universal Waste Management System is probably the most expensive toilet in the universe. Probably the toilet with the longest name too. NASA spent $23 million on the waste system. The newest space toilet is smaller and lighter than the old version, and easier to maintain, especially when it springs a leak. One of the biggest upgrades this toilet has compared to the previous iterations of space toilets is that it allows astronauts to pee and poop at the same time, which also means that female astronauts can finally use the toilet with ease:
This matters more for the women in the astronaut corps, for whom the two bodily functions can be trickier to separate. For years, women astronauts have been carefully positioning themselves over the bowl, exchanging tips with their colleagues on best practices, and trying to make do with hardware that wasn't built for their bodies.
Space toilets don't look quite like the one in your bathroom. With the older latrine models on the ISS, astronauts urinate into a handheld funnel and defecate into a device that looks like a smaller version of a traditional toilet seat. A fan inside each apparatus suctions the waste away from the body, an important function in an environment where everything floats. The urine is transformed into the next day's water, while the feces are compressed in a removable container and eventually dispatched on a special trash spacecraft that burns up in the atmosphere in the majestic manner of a shooting star. It's careful business for men and women alike. Hold the funnel too close to the body, cutting off airflow, and liquid can end up pooling near the top. Lose contact with the seat, and waste might escape. Forget to turn on those fans before you start, and things can get messy.
Image via The Atlantic