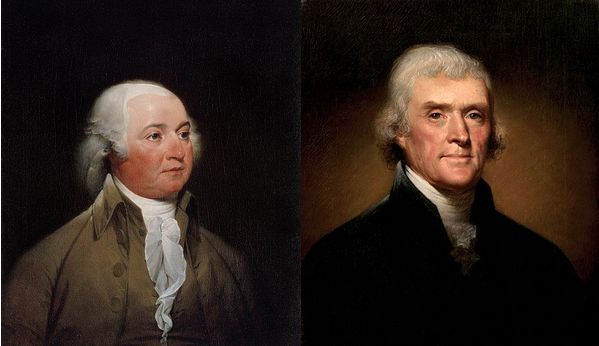 The United States has been swearing in presidents since 1789. While there has been an effort to make the ceremony consistent and traditional, each one is slightly different. Of course, when a president dies, his successor may take the oath of office in strange circumstances: one in an airplane, another oath administered by the president's father. But even the public ceremonies have had their moments, like when Andrew Johnson showed up drunk. Believe it or not, two different inaugurations had to contend with dead birds! Then there's the story of two Founding Fathers and their on-again, off-again friendship.
For many years, John Adams and Thomas Jefferson had been close friends. Together, they'd helped create the Declaration of Independence, worked in Europe as fellow diplomats, and had even stolen a piece of Shakespeare's favorite chair. (Seriously.)

But as their political careers diverged, the two became rivals. When Jefferson was inaugurated on March 4, 1801, Adams was nowhere to be found. Eight hours before the big event, he'd left Washington and started making his way back to his family farm in Braintree, Massachusetts. This made Adams the first president who chose to skip his successor's swearing-in ceremony. (History repeated itself 28 years later, when John Quincy Adams boycotted Andrew Jackson's inauguration. Like father, like son.)

Adams and Jefferson eventually made up when, in 1811, Adams casually told some houseguests, "I always loved Jefferson, and I still love him." Mutual friends forwarded this comment along to Monticello. Jefferson was thrilled. "I only needed this knowledge to revive towards [Adams] all of the affections of the most cordial moments of our lives," he proclaimed. Over the next 15 years, the two ex-presidents exchanged more than 150 friendly letters. They both died within hours of each other on the same day—July 4, 1826.
Read the details of the 35 weirdest stories Mental Floss dug up about presidential inaugurations.

One that didn't make the list, but was certainly memorable, was the drunken brawl following Andrew Jackson's inauguration.