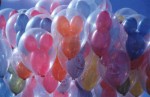 On a recent trip to Disneyland, after much begging, we purchased a giant Minnie Mouse balloon for our daughter.  Twenty minutes later the thing broke free from its red ribbon and sadly flew away.
Next, of course, came the tears.  Nothing is worse than a heart broken toddler.  As we were just about to search out another balloon  someone came up and informed us that Disneyland actually replaces lost balloons.  We never knew this.
Turns out  if  you lose a balloon at Disneyland you just need to go to City Hall on Main Street and tell them what happened.  We brought along the limp ribbon with Mickey weights attached as proof.  The nice cast member wrote us a voucher for a replacement balloon.  Now both daughter and parents were happy. Daughter got a new balloon and parents did not have to buy another balloon.
Do you have any fun facts about Disneyland to share?
(Photo: From clipart. Not a picture of the  actual balloon. )
---

We hope you like this article!
Please help us grow by sharing:
Get Updates In Your Inbox
Free weekly emails, plus get access
to subscriber-only prizes.
We won't share your email. You can cancel at any time.