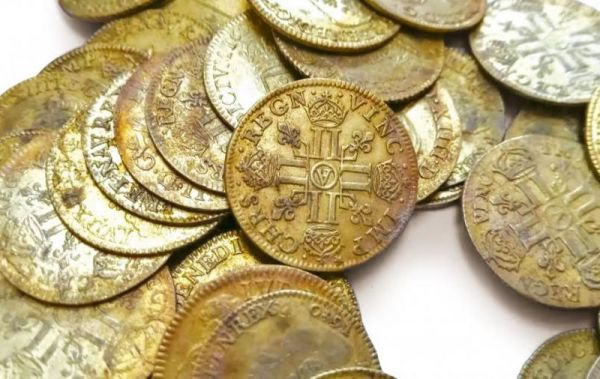 You don't have to be Indiana Jones to hunt treasure. If you're lucky enough, you don't even have to hunt for it! A crew of construction workers were renovating a mansion in France a couple of years ago and found a metal box embedded in a wall. It was full of gold coins- rather old ones, it seemed. That was on a Friday. The next Monday, the workers found another stash of coins, this time in a bag buried in a wall. François Mion and his wife, who purchased the mansion in 2012, were suddenly glad they decided to renovate and join the three buildings on the property.
After the 2019 find, Mion alerted the local authorities and later sent the treasures away to be studied and verified. Archaeologists determined that the coins were minted during the reigns of Kings Louis XIII and Louis XIV, monarchs who ruled France from 1610 to 1643 and 1643 to 1715, respectively. The most recently minted coins were likely created during a series of money reforms that Louis XIV enacted to finance several costly wars. During his 72-year-long reign, Louis XIV also oversaw massive expansions to the Palace of Versailles.

Beginning in 2016, all treasures discovered in France automatically became property of the state. However, since the mansion owners purchased the property in 2012, they have the rights to sell their finds, reports France 3. Per French law, the proceeds from the sale will be split in half, with half going to the married couple who owns the property and half to be split evenly among the three discoverers.
You have to wonder how close the Mion family came to putting off renovations for a few years. The coins will go up for auction on September 29, and are expected to bring more than €250,000. Read the entire story at Smithsonian.
(Image credit: Ivoire Auction House)