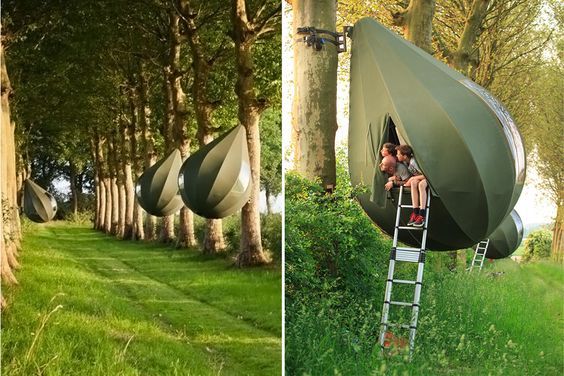 Say goodbye to the old triangular design! Actually, you can still buy classic triangle tents at your local camping shop, but there are now new and modern designs that are still comfy, cozy, and good for outdoor camping. Yanko Design curates a list of modern tents that fit both your Instagram feed and your outdoor camping needs! One of the examples are Belgium's tree tents. Designed by Dutch artist Dre Wapenaar, these 'Tranendreef' tree tents are suspended above the ground and basically hang on the tree like fruit:
The tent is suspended above the ground and basically hangs on the tree like fruit. The guests use a ladder to get inside/outside. It can host two adults and two small children. Originally installed as part of a public art project called 'Pit' (hence the avocado shape we assume) organized by Z33, it brought art into the public space of Borgloon. The designer also created 'field furniture' – seating, washing, toilet, and BBQ units to complete the camping site with the tents.
Check more designs here!
Image credit: via Yanko Design