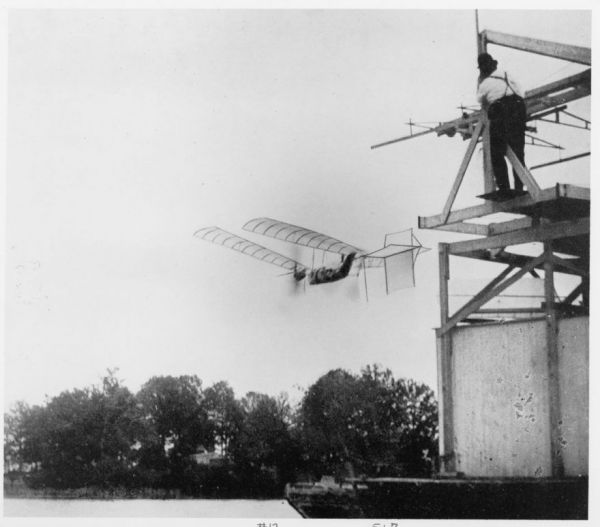 We know that the Wright Brothers are credited with the first flying machine, actually the first successful, manned, powered, heavier-than-air flying machine. You might not know that there were dozens of engineers and inventors working on the problem of powered flight in the years leading up to Wilbur and Orville's breakthrough in 1903. You probably have not heard of the Aerodrome, a flying machine that made a spectacular flight in 1896, although with no pilot aboard.  
History would be made that day, May 6, 1896, as this apparatus—a flying machine, known as Aerodrome No. 5—was started and then launched from a spring-loaded catapult. The Aerodrome would take off and travel for 90 seconds some 3,300 feet in an effortless spiral trajectory and then gently land in the river.

The third Secretary of the Smithsonian Institution, Samuel Pierpont Langley, an astronomer who also enjoyed tinkering with his own creations, was aboard the boat. His winged invention had just made the world's first successful flight of an unpiloted, engine-driven, heavier-than-air craft of substantial size.
This experiment led to a manned flight of Langley's followup aircraft called the Great Aerodrome, which had a pilot, in October of 1903. Because you know the Wright Brothers and not Langley, you can infer that it was not successful. Read the story of Langley's flying machines at Smithsonian.