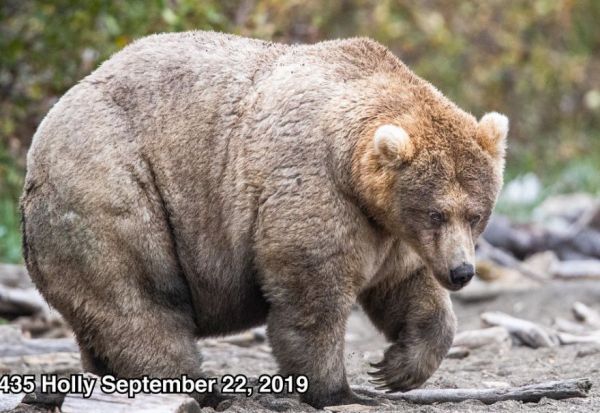 Katmai National Park and Preserve's Fat Bear tournament last fall was won by a fabulously rotund female brown bear named Holly. You can see her at her chonkiest here. But soon after winning the competition, Holly went into hibernation, and now she has emerged a changed bear.
After online voters crowned Holly the fattest of the fat bears in October 2019, she went into hibernation during the long winter famine, subsisting on her ample fat reserves. What's more, Holly also gave birth and nursed a cub during hibernation (female bears are the only animals known to give birth and lactate while hibernating, noted Fitz).

"All that fat paid off," Naomi Boak, the media ranger at Katmai National Park and Preserve, told Mashable. "She's one-third the bear she was," Boak, who's currently stationed at the Brooks River in Katmai, added.
Giving birth to a cub is all the more remarkable because Holly is 20 years old, which is the expected lifespan of a brown bear. She probably won't be in the running this fall, because this summer she is fishing for two. Read more about Holly at Mashable. You can follow the bears of Katmai on a webcam through the summer.

(Image credit: National Park Service)