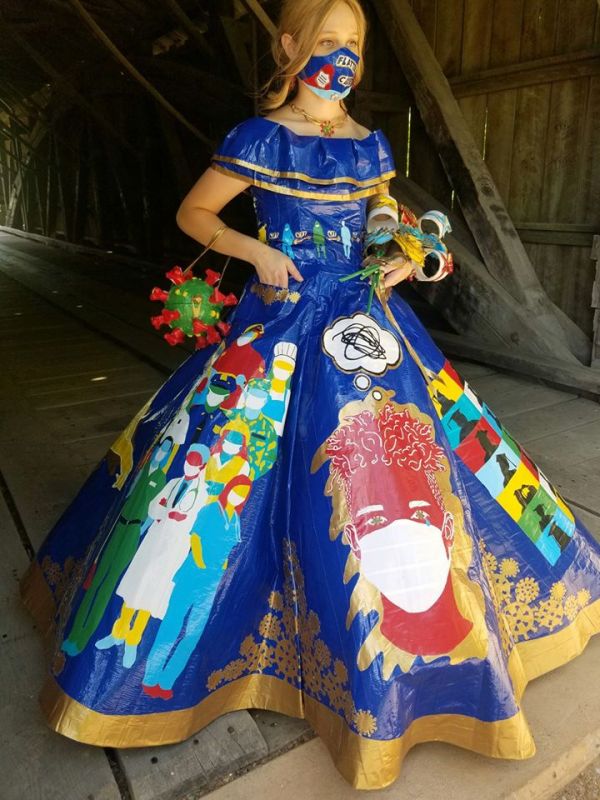 For twenty years now, Duck brand tape has held the Stuck at Prom competition, in which scholarships are up for grabs for the best prom dress and tuxedo made from Duck tape. The 2020 competition is now closed for entries, but the winners have not been determined yet. One dress that sticks out enough to go viral is the one you see above. Peyton Manker had never sewn a dress before, but she got some tape and went to work. When her prom was canceled, she decided to finish the dress, and use it as a canvas for COVID-19 themed art.
So, the COVID-themed duct tape prom dress features a number of details that reference all the things that happened during the lockdown. This includes imagery of zoom classes and online graduations, people in masks and those sneezing, people running away from the coronavirus, a call to flatten the curve, and also an image honoring essential and front-line workers.

Besides the predominantly blue and gold gown, Peyton also crafted a duct tape mask, a coronavirus shaped purse, and a number of smaller accessories like a hair clip and a wristband, all adorned with viral imagery.  
Manker estimates she spent around 400 hours on the dress. See all the images of the dress, accessories, and art details at Facebook. See more Duck tape prom attire at the Stuck at Prom gallery.

(Image credit: Suzy Smith Manker)