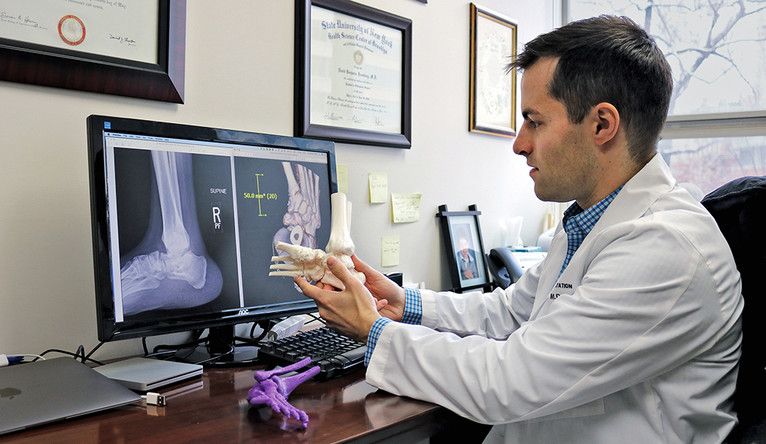 One of Dr. David Frumberg's recent cases involved figuring out how he was he was going to fix the left leg of his patient, who was a 14-year-old girl.
"She has an abnormal connection between these two bones, and she's missing half of her tibia," said Frumberg, assistant professor of orthopedics and rehabilitation [at Yale School of Medicine]. "Have you ever had pain on the outside of your foot? It's awful, and she experiences that with every step."
The case was a tricky one, and X-rays and CT scans were not giving Frumberg adequate information. To better understand the situation, he went to the Center for Engineering Innovation & Design (CEID) to get a 3D-printed model of the joints.
Having the model allowed him to hold the problem in his hand, turn it around, and help him see things he couldn't before.
"For me, the model helps in so many ways," he said. "It helps me come up with a plan, it helps me figure out the relationships between all the different complex deformities, and what needs to be repaired and what doesn't."
This isn't the first time that Frumberg has had bones printed in the past year; it's only one of several bone models he's had printed. These models prove to be helpful for the more complicated cases, as it reduces the guesswork significantly.
And now, when he opens up a patient, there aren't so many surprises to work out on the fly. "Every time I get a model, it changes my plan 100%," he said.
That's because his procedures involve not just a lot of parts, but parts that often don't look like anything he's seen in previous cases. Many cases in the field of orthopedics fall under the "routine" category — that is, they require textbook-style knowledge of standard treatments. Frumberg specializes in the other kind.
In other words, Frumberg never sees the same patient, and he rarely does the same operation.
"My work is this: How do I take this uniquely abnormal limb and what can I do that's best for the patient? It's that kind of critical thinking that makes it interesting to me."
More about Frumberg's story over at YaleNews.
(Image Credit: YaleNews)