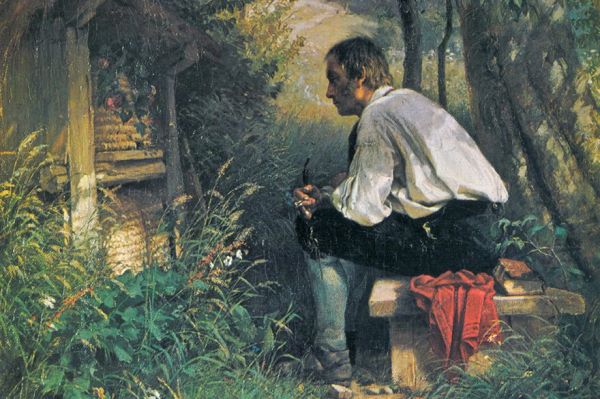 John Greenleaf Whittier wrote a poem in 1858 entitled "Telling the Bees" about a New England custom that was dying out even then. Back when many households kept beehives for honey, wax, and pollination, the hardworking bees were considered members of the family. When a relative died, the bees must be informed and given a proper opportunity to mourn.
This practice of "telling the bees" may have its origins in Celtic mythology where the presence of a bee after a death signified the soul leaving the body, but the tradition appears to have been most prominent in the eighteenth and nineteenth centuries in the U.S. and Western Europe. The ritual involves notifying honey bees of major events in the beekeeper's life, such as a death or marriage.

While the traditions varied from country to country, "telling the bees" always involved notifying the insects of a death in the family—so that the bees could share in the mourning. This generally entailed draping each hive with black crepe or some other "shred of black." It was required that the sad news be delivered to each hive individually, by knocking once and then verbally relaying the tale of sorrow.
There were variations on the ritual over time and place, and folk stories that warned of the bad things that could happen if bees weren't kept current on family news. Read about the custom of telling the bees at Jstor. -via Nag on the Lake