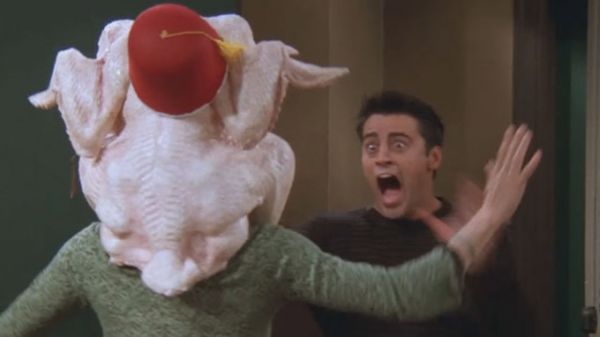 Sitcoms love to make us feel like part of the family by sharing their holiday traditions with us. They get all dressed up for Halloween, have family and friends over for Christmas and get ta gobblin' up a delicious dinner on Thanksgiving day, just like real people!
Let's take a fun trip down Thanksgiving memory lane with ten hand plucked sitcom episodes sure to make you thankful for finely crafted television shows:
1. Friends- The One With All The Thanksgivings-
Friends went all out for a Thanksgiving of remembrance during episode 8 of season 5, from all the way back in 1998. Through flashback sequences we get to see Monica before she lost all the weight, Chandler sporting a totally radical Flock of Seagulls haircut, and this unforgettable Monica turkey moment:
2. Family Ties - No Nukes Is Good Nukes-
Choosing an anti-nuke protest over a Thanksgiving feast seems like a fine message, but the true spirit of togetherness comes when Alex P., Mallory and Jennifer show they love and support their parents no matter how kooky their cause.
3. Modern Family - Punkin' Chunkin'-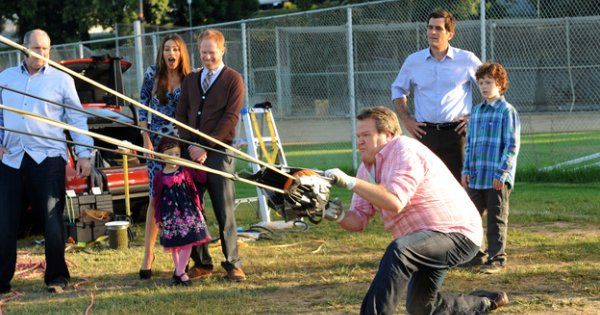 Modern Family put a totally progressive spin on the classic Thanksgiving episode by bringing the family together around some good ol' fashioned punkin chunkin, because nothing squashes family beef like launching orange squash through the air! Doesn't that look like a fun new take on Thanksgiving tradition?
4. Seinfeld - Mom & Pop Store-
Leave it up to the show about nothing to disguise their Thanksgiving episode under layers of stuffing. George buys John Voight's car, an Empire State Building statue pops Mr. Pitt's dream of holding a balloon in the Macy's parade, and a mom and pop store makes off with all of Jerry's sneakers.
5. WKRP In Cincinnati - Turkeys Away-
The episode of WKRP In Cincinnati entitled Turkeys Away was long considered the best Thanksgiving themed episode in the sitcom world, largely because of the ridiculous, yet somehow plausible, theme.
The plot- the station decides to give away free live turkeys by tossing them out of a helicopter, and the whole stunt becomes a turkey day disaster hilariously described by Les Nesman.
Continue reading