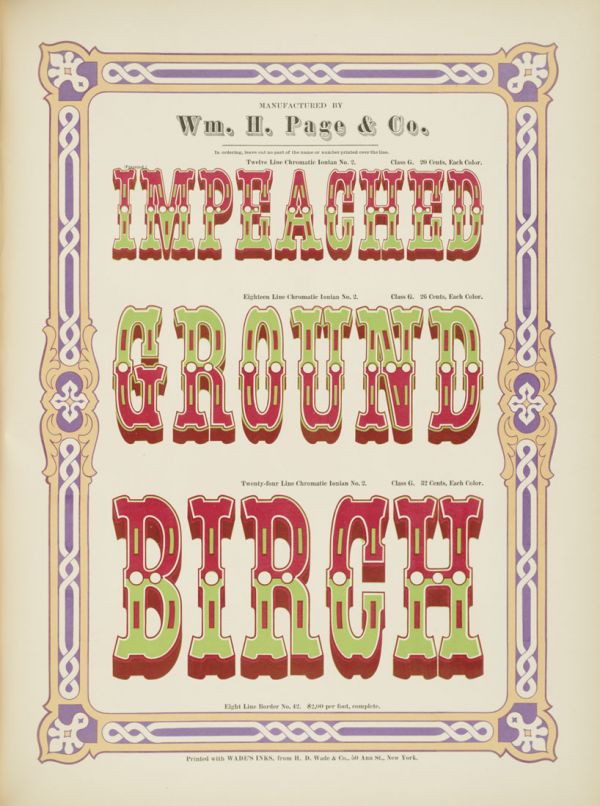 William Hamilton Page made wood type, but he really made a name for himself for his unique way of selling his blocks that made beautiful color print. In 1874, he set them into a sample book, a sales catalog called Specimens of Chromatic Wood Type, Borders, &c. Modern type nerds have called it "the most beautiful book in the world," although the original published run is down to just a few copies. The text is nothing to write home about, but the type, colors, and even the borders are something special.
In the context of wood type, "chromatic" is the SAT word for "highly colored." To be sure, in the 1870s, it was hardly unheard of for fonts to show off their serifs, shoulders, and arms in rainbows hues, but black-on-white was the rule. Not so in the Page catalog, whose title page is composed of no fewer than nine different colors, which means each sheet took nine trips to the letterpress to achieve its effect. (Incredibly, despite this repetition, no one caught the typo in the word "Type" in the center of the page.)

Throughout the rest of Specimens, individual letters—offered for sale at a nickel to 80 cents each, depending mostly on their size—show off their capabilities in two and three colors. In fact, color was so important to Page's products that just about every page of his company's catalog features a plug for Wade Inks, which supplied ink to none other than the U.S. Bureau of Engraving and Printing.

Wade Inks, particularly its "transparent" inks, were key to the printed appearance of type cut by Page—transparent inks remain a staple of rock-poster screenprinters today. In the context of printing, the word "transparent" means that when one color was printed on top of another, the color below would affect the appearance of the color printed on top of it, creating a third color where the two overlapped. To help ensure that the registration between the two pieces was as precise as possible, blank pieces of maple destined for pairing were cut with a router at the same time. Then, voids would be carved out and outlining "shadows" would be cut away. When the finished pieces of type were subsequently swapped in the press, the colors would align, differentiate, and overlap cleanly.
A new reprint of the book has just been made available to modern type fans. Read about the business of 19th-century type and the book Page made that archives the art at Collectors Weekly.