The following is an article from the book Uncle John's Bathroom Reader History's Lists.
Borders, fences, fortifications, demarcations- whatever you call them, there are a lot of dividing lines in history. Here are some of the most famous.

1. HADRIAN'S WALL
Milecastle 39 on Hadrian's Wall near Steel Rigg. (Image credit: Adam Cuerden)
In AD 122, the Roman Empire was near the height of its power, but in the far-flung imperial province of Britannia, the empire was having some trouble near its northern border. To control that line in the heath, Emperor Hadrian ordered the construction of what became the most heavily-fortified border in the Western world at the time: a 73-mile wall of limestone and turf, with small forts roughly every Roman mile occupied by a few dozen troops. Additionally, larger forts were also constructed. The Romans built the wall well enough that it survived the Roman Empire, and what remains of it became a World Heritage Site in 1987.
2. THE TORDESILLAS MERIDIAN
(Image credit: Lencer)
There's a reason that the citizens of Brazil speak Portuguese while nearly all of the rest of South America speaks Spanish: that reason is the Tordesillas Meridian. In 1493, Pope Alexander VI offered a papal edict saying that Spain (Alexander VI's native country) would control any land west of a meridian (a line stretching from pole to pole) that lay 100 leagues west of the Cape Verde islands, which were off the coast of Africa. This meant that the pope was giving the Americas to Spain, which did not sit well with the Portuguese, who thought they were entitled to it.

In 1494, the Spanish and Portuguese signed the Treaty of Tordesillas, which nudges that papal line further west -giving Portugal the eastern "bump" of the South American continent that would become Brazil.

3. THE PALE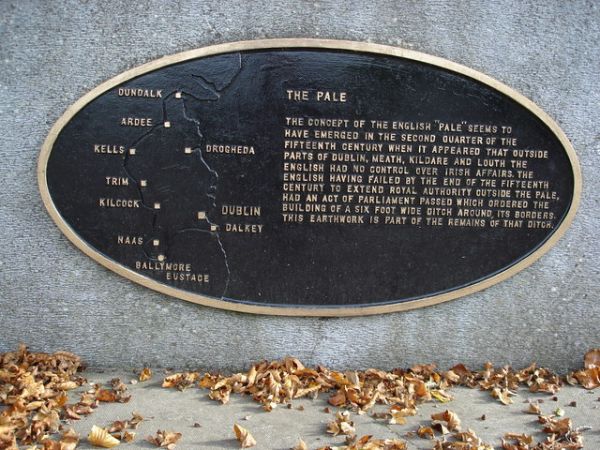 (Image credit: Hamish Bain)
When is a line not just a line? When it is "the Pale" -an area on the eastern shore of Ireland that was directly under the control of the English crown during the Middle Ages. It derived its name from the Latin word palus, which literally meant a stake, but figuratively meant a fence or line, the lands beyond which one does not have control (and indeed, the Pale had a border fence, or some say a line of dikes). This is what people are referring to when they use the expression "beyond the pale."

4. MASON-DIXON LINE
Continue reading