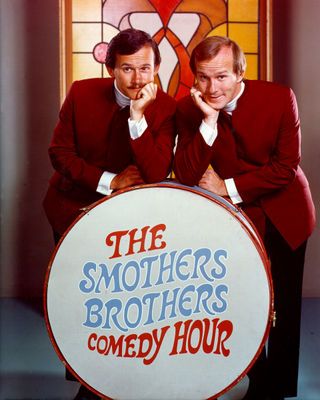 The following article is from the book Uncle John's Bathroom Reader Tunes Into TV.
In 1967 CBS hired the Smothers Brothers to host a variety show that would attract a young, hip audience. The show did that …but CBS didn't like it. Here's a look at the controversy behind The Smothers Brothers Comedy Hour.

FAMILY BAND

In the 1960s, musical comedy duo Tom and Dick Smothers, professionally known as the Smothers Brothers, were already veterans of the folk scene. They'd recorded several hit albums of their unique act: singing and playing folk songs before shifting into scripted sibling arguments and topical standup comedy bits.

After the brothers appeared on a string of talk and variety shows, CBS signed them to a contract in 1965 and created The Smothers Brothers Show. It was a forgettable sitcom -Dick's character was a playboy, Tom was the ghost of his dead brother- and the brothers felt it didn't play to their strengths. There was none of their usual bantering, and they got to perform music in only one episode. The show was canceled due to low ratings in 1966.

HOW TO BEAT A BONANZA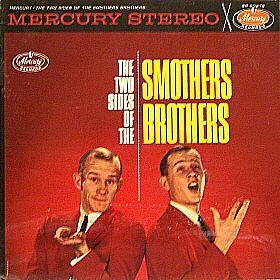 Meanwhile the network was trying -and failing- to compete with NBC's hit Bonanza, the #1 show on television. Nothing could touch it in its Sunday night time slot, and it had even killed off former hits Perry Mason and The Garry Moore Show. When Moore was canceled at the end of 1966, CBS decided that the best way to compete with Bonanza was counter-programming. Bonanza attracted mostly viewers over 40. What if CBS put something on that appealed to people in their 20s and 30s? At some point the network realized it already had the ideal stars of this new show under contract: the Smothers Brothers.

Before agreeing to a new show, executive producer and star Tom Smothers insisted on full control. His reason: The Smothers Brothers Show had been so stressful for him that he'd developed an ulcer and gotten divorced. CBS agreed and the brothers got to work hiring writers and performers from the burgeoning Los Angeles comedy scene. Some of those unknowns: Steve Martin, Rob Reiner, Pat Paulsen, and Albert Brooks.

FOR WHAT ITS WORTH

The Smothers Brothers Comedy Hour debuted on Sunday, February 5, 1967, at 9PM.
Continue reading