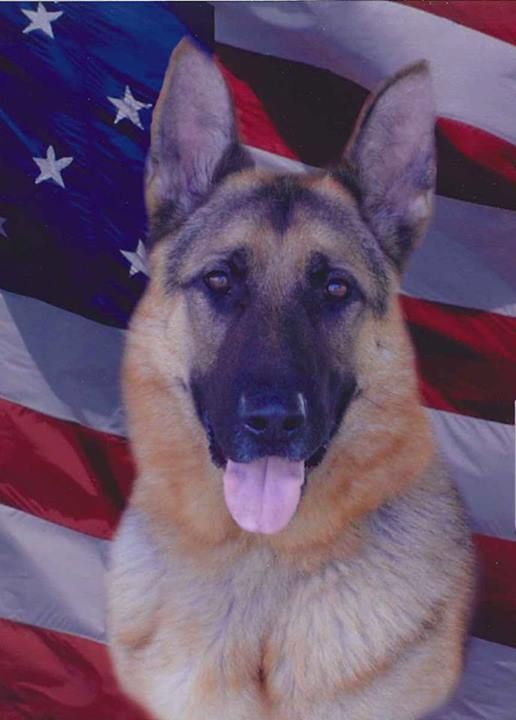 This is a picture of K-9 officer Dante. Massachusetts State Trooper Christopher Coscia, Dante's partner for nine years, recently faced the decision to put Dante down due to pulmonary hypertension. He wrote a heartfelt tribute to the dog on Facebook, detailing Dante's personality, his career in law enforcement, and his struggle to get oxygen in his last days.
The day came when it was time to take him to the vet for the inevitable. After more than 2,300 rides that we took together, the dog who had trouble making out to the yard just feet away sat upright in his car for One Last Ride.

It was a ride I had I delayed for eight hours, just driving around with him as we did so many times, struggling with the decision to put him down. He sat upright, alert as ever, checking the perimeter always on guard. How does the dog who can barely breathe remain upright and vigilant for so long?

I sit here writing this obituary in a parking lot not two miles before we reached our final destination. My story is as written, and although it jumps about it is written from the heart. I write this story with tears in my eyes and flowing freely down my face. Dante is still somehow sitting upright watching me as I write about him, every once in a while sticking his head through the cage, letting me know things will be alright.
That's a good dog. There's plenty more in his letter, but you really need to get a hankie ready before you read it. -via Buzzfeed
---

We hope you like this article!
Please help us grow by sharing:
Get Updates In Your Inbox
Free weekly emails, plus get access
to subscriber-only prizes.
We won't share your email. You can cancel at any time.