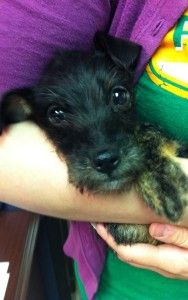 A vehicle at an impound lot in Kansas City had a surprise inside, but no one knew for almost a month. When an inspector went around to mark cars for auction on Monday, the puppy jumped up on the dashboard! Since the car was locked, lot employees called the police, who freed the puppy.
What is known is that the 1990 Chevy Suburban was towed because it was abandoned April 8 on an eastbound ramp to I-70 from Van Brunt Boulevard and was blocking traffic, Rotert said. Police got the call at 10:08 p.m. and it was towed to the city tow lot at 10:45 p.m. Neither police nor the tow truck driver saw a dog, nor did tow lot employees.

The doors on the car were locked. Typically, when a car arrives at the tow lot with locked doors, employees take pictures of the outside of the vehicle and keep the doors locked. Rotert said they do not try to break into locked cars.
The dog was taken to a veterinarian, who estimated the emaciated pup was 12 weeks old, although the female, now named Kia, was the size of an 8-week-old. She had apparently survived on fast food scraps and cigars, but no one knows if she had anything to drink. The owner of the car came by the lot on May 1st, but did not have a car key and never mentioned a puppy. Kia is expected to recover and will be sent to a foster home before adoption. Link -via Arbroath

(Image credit: The KC Pet Project)
---

We hope you like this article!
Please help us grow by sharing:
Get Updates In Your Inbox
Free weekly emails, plus get access
to subscriber-only prizes.
We won't share your email. You can cancel at any time.