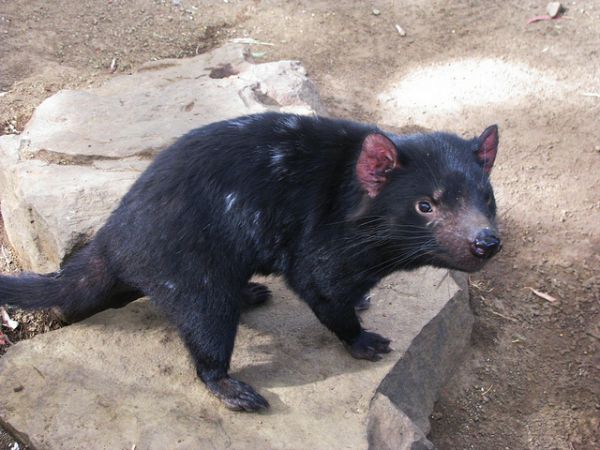 Biologists have been relocating healthy Tasmanian devils to a new home on Maria Island, because there's a chance they may be wiped out in their native home of Tasmania. The culprit is two very frightening words: contagious cancer.
Biologists first encountered the cancer in the late 1990s. The tumors grew on the devils' faces or inside their mouths, and within six months the animals were dead. The first cases appeared in eastern Tasmania, and with each passing year the cancer's range expanded westward.

When scientists examined the cells in the tumors, they got a baffling surprise. The DNA from each tumor did not match the Tasmanian devil on which it grew. Instead, it matched the tumors on other devils. That meant that the cancer was contagious, spreading from one animal to another.

There are only a few reports of humans developing cancer from other people's tumors hidden in transplanted skin or other organs. Only one other example of contagious cancer is known from the natural world, a tumor in dogs.
It is thought that the cancer spreads when the marsupials bite each other's faces, transferring the cancer cells into the new host's bloodstream. And this particular cancer is still evolving, showing evidence of thousands of mutations. They don't know which one caused it to become a contagious cancer, but somewhere along the line, the malignant cells learned to bypass the devil's immune system. Carl Zimmer tells us more about these devastating genetic developments at the New York Times. Link -via The Loom

(Image credit: Flickr user Arthur Chapman)

Previously: Tasmanian Devils Face Extinction
---

We hope you like this article!
Please help us grow by sharing:
Get Updates In Your Inbox
Free weekly emails, plus get access
to subscriber-only prizes.
We won't share your email. You can cancel at any time.