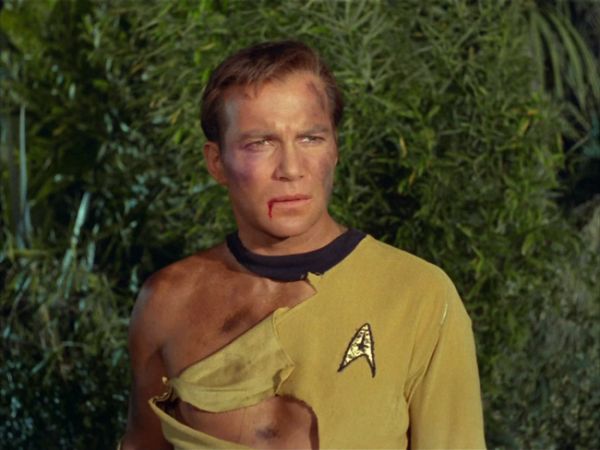 Fighting sports analyst Jack Slack takes a look at the TV series Star Trek: TOS and the many fights of Captain James T. Kirk. The Captain managed to punch someone or other around in just about every episode.
Among all the qualities required to command a ship and its crew, undoubtedly the most important is an officer's ability in hand-to-hand combat. You don't know where you'll be, or what you'll be doing, when your phaser gets knocked out of your hand and goes skidding across the floor. Or when diplomatic discussions and love-making with an alien race will fall through, and you'll have to fist fight for your life.

No man understood this as well as Captain James T. Kirk of the USS Enterprise. Throughout the 2200s, Kirk captained his ship to countless unknown worlds and met a perhaps difficult-to-believe number of hostile civilizations. Often complex political dealings would boil down to a test of Kirk's fighting prowess and he was forced to battle in the knowledge that his failure could leave his crew in jeopardy. Or worse than that—dead.
And since Kirk got into fistfights so often, the producers had to change it up to keep the action sequences from getting too boring. Therefore, we see numerous methods and tricks for disabling the latest antagonist whether he be alien or human. Slack goes over the axe handle strikes, the head scissors, the grappling, and other fighting moves that work so much better on TV than they do in real life. Read about them all at Vice's Fightland site. -via Digg