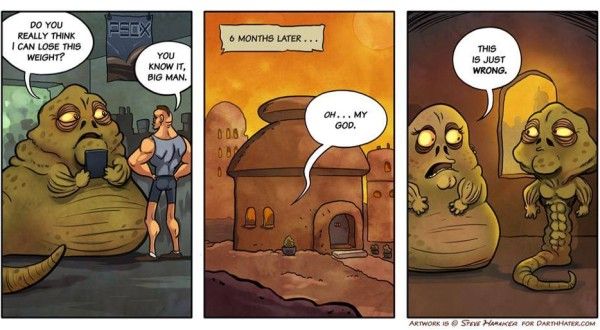 There are plenty of beings across the galaxy that could stand to lose a bit of weight, but Hutts just don't look right without their signature slug-like gut.
Hutt weight loss is also liable to render them vulnerable to blaster fire, which could be bad for business, so if you see a Hutt thinking about getting a gym membership remind them that their bulk is what makes them repulsive beautiful.
This Hutt oriented anti-weight loss comic was brought to you by Steve Hamaker, as a reminder- a skinny Hutt is a dead Hutt!
-Via Geeks Are Sexy
---

We hope you like this article!
Please help us grow by sharing:
Get Updates In Your Inbox
Free weekly emails, plus get access
to subscriber-only prizes.
We won't share your email. You can cancel at any time.