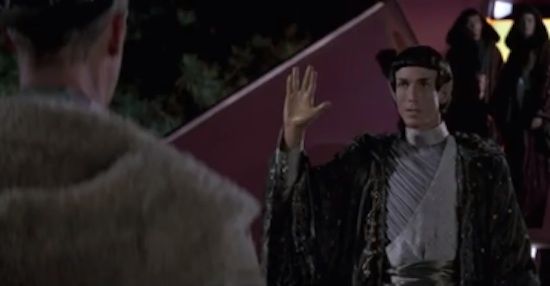 April 5th is the day celebrated as the day that humans first contacted aliens -except that won't happen until 50 years from now, and then only in the Star Trek universe. Maybe.
According to Star Trek lore, April 5, 2063 was the day that washed-up, cantankerous old nutter Zefram Cochrane proved he wasn't so washed-up after all, though he was exactly as cantankerous as he seemed. Cochrane (with a little help from the time-displaced crew of the Enterprise-D) piloted the first warp flight from Earth, attracting the attention of a passing Vulcan ship and alerting human beings to life on other planets for the first time.
The greeting of the day: Live long, and prosper! Link

Learn more at Memory Alpha. Link
---

We hope you like this article!
Please help us grow by sharing:
Get Updates In Your Inbox
Free weekly emails, plus get access
to subscriber-only prizes.
We won't share your email. You can cancel at any time.