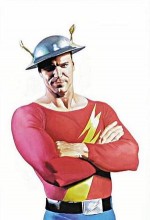 Maxwell Yezpitelok of
Cracked
doesn't hold back on nine superheroes who make the lamest attempts to disguise themselves, such as Jay Garrick, the first Flash:
And we are officially no longer trying: No mask, no cowl, no tan, just a colander on his head. A colander with wings.

The explanation was that he moved too fast for anyone to recognize him, but what about when he was carrying someone else at the same speed?
Another thought: superheroes who don't wear gloves are just
begging
to get caught.
Link
| Image: DC Comics