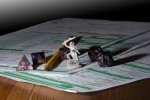 Many role-playing games, since the early days of
Dungeons & Dragons
, have employed alignment systems to keep a player's decisions for his character consistent with some ethical framework. This way, a player is not free to have a normally moral character commit heinous acts because it would be temporarily convenient and lack any real-world consequences.
Dungeons & Dragons
' alignment system is based on two axes of lawfulness and goodness.
Palladium
games more or less adapt this system to include selfishness. Other, more narrative-driven systems, such as
The World of Darkness
, round out a character's attitudes more loosely. And some RPGs have no alignment system at all and leave ethical issues to be freely played out.
What is your favorite alignment system?
Photo by Flickr user
laenulfean
used under Creative Commons license