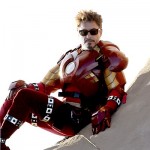 Iron Man 2
director Jon Favreau offered this fascinating bit of social commentary:
The first 21st century superhero is a hedonistic, narcissistic, even nihilistic, adrenaline junkie, billionaire entrepreneur do-gooder. If Peter Parker's life lesson is that "with great power comes great responsibility," Tony Stark's is that with great power comes a shit-ton of fun.

You can't get any more Gen Y than that.
Do you agree?
At the link, you can find an interesting exploration of the cultural significance of Tony Stark (who has no secret identity) with the way different generations value -- or don't value -- privacy.
Link
via
io9
| Image: Marvel/Paramount