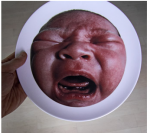 Photographer Phillip Toledano (
featured
previously
) speaks honestly about his new baby girl and the feelings he had as a new father. It was a rough start, as many fathers know.
Some men deal with their baby rage by drinking or playing video games.

I made plates.

I thought it was high comedy, but Carla was not so amused.

For the longest time, when people asked me to see a photo of Loulou, this is what I'd show them.

I liked not showing the usual cherubic photo. An adorable shot of Loulou poking her head out of a casserole pot, or something similarly bilious.

Does ever baby picture have to be sweet and beautiful?
Things changed as time progressed. Enjoy this photo essay by clicking the pictures or text to advance.
Link
-via
Metafilter