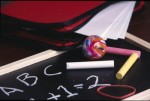 The Milwaukee Teachers' Education Association has filed a lawsuit claiming that male teachers are discriminated against. Why? Because, their health insurance plan does not cover Viagra or other drugs for erectile dysfunction.
Lawyers for the union claimed that because treatment for female sexual dysfunction such as vaginal cream and estrogen replacement medication is covered, the removal of Viagra from the health plan unfairly disadvantaged male employees.

The school district has countered that the elimination was a cost-saving measure and non-discriminatory because the drugs are mainly recreational.
What do you think about this school budget woe? Do you think their argument is limp?
Eric Randall of the Journal Sentinel has more:
Link